Concerns only Reboots One / One Lite
If your device is very loud, the transport screw is often still in your controller. The transport screw is used to protect and secure your device during long transports. In order for the motor to run quietly, it should be removed before the first use.
It works like this:
First, please turn off your device and unplug it from the power outlet. On the bottom side of your control unit you will find a flap (as you see in the picture). Underneath you will find the transport screw.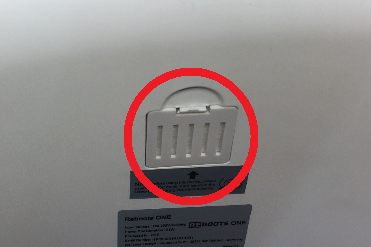 Your package should include a small screwdriver. Use it to remove the screw underneath the flap. The screw serves no further purpose, you can simply dispose of it.
Now your device should work quietly and not be louder than, for example, a refrigerator (about 50db) .
Do you need our help or are you unsure?
Then contact us and we will be happy to help you.
We are available from monday to friday from 8am to 12pm and from 12.30pm to 16.30pm:
Mail: hallo@reboots.de
Telefon: +49 6661 748 9106
Whats App: +49 157 3598 0953
And also via live chat at our website.