Concerns only Reboots One / One Lite
The remote control on your reboots simplifies the operation. This allows you to remain seated comfortably during your recovery application. Important: You do not need to switch your remote control on or off. It works as soon as you have switched on your control unit. Afterwards you can make all further settings via your remote control.
Good to know: Due to the current delivery regulations, we are unfortunately not allowed to send you a battery with your remote control. To make it ready for use, please insert a CR2032 button battery into the battery compartment.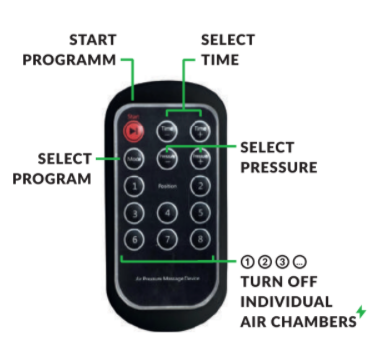 1. start or pause program
2. set the desired duration
3. select a program
4. set the pressure
5. switch off individual air chambers (if desired)
If you have further questions about the application or feedback about our products, we would be happy to hear from you!
Send us a message: hallo@reboots.de
Call us: +49 6661 748 9106
Write us on Whats App
Instagram: www.instagram.com/rebootsrecovery
We are available for you from Monday to Friday from 8am - 12pm and from 12:30pm - 4:30pm :)