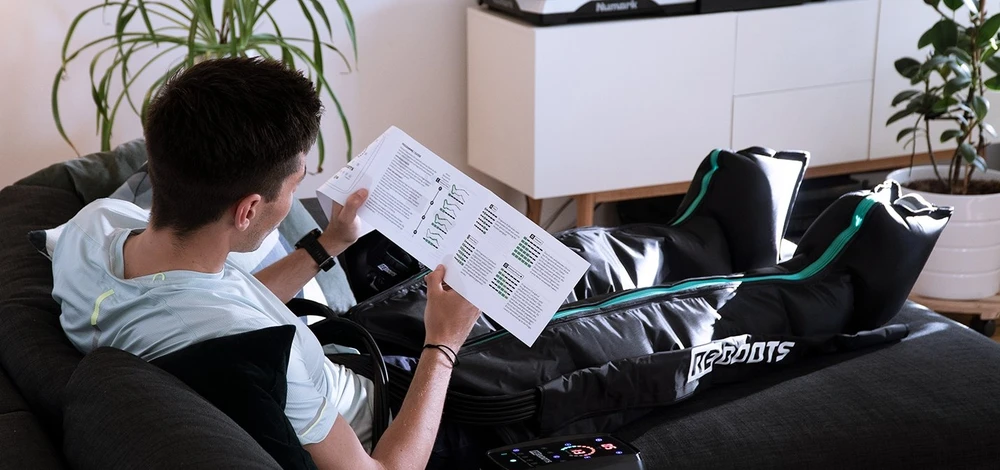 To achieve the maximum effect for your regeneration, we recommend the following 10 tips:
1. Pay attention to your body
As a general rule, the application should always feel good and never be painful or uncomfortable.
2. Consider the optimal application time
The optimal application time is 30 to 50 minutes. The application may also last longer, but at some point it will bring only little additional benefit.
3. Feel your way to your individual pressure
A lot does not always help a lot. We recommend starting with a low pressure and increasing it over the course of the following applications. The leg circumference is decisive for choosing the right pressure. Users with thin legs have to work more often with a higher pressure. In addition, the feeling of pressure is very subjective. The same pressure can be felt very differently by different people.
4. Use the deactivatable chambers if necessary
You can use the deactivatable compression chambers if you want to exclude pain-sensitive areas from the massage. You can also turn off the top chamber if you only have reboots that are too big for you.
5. Keep the legs in a horizontal position
Always keep the legs as horizontal as possible during the Reboots application. Let Reboots work with gravity, not against it.
6. Pay attention to the placement of the air hoses
Make sure that the air supply hoses are not jammed, for example because you are sitting on them or because they are bent.
7. Choose the right Reboots size
Use the optimal size for you (M, L or XL) depending on the inside leg length. The pants, on the other hand, are one size fits all.
8. Use cooling regeneration measures only after the application
If you want to use additional cooling regeneration measures, use them only after the recovery application for about 10 minutes. Important: Never use these measures before the massage, as the cold causes your vessels to contract.
9. Use Reboots soon after training
Try to use Reboots within an hour of your workout and take a protein shake, electrolytes and salts before use. It is also important to drink plenty of fluids before and after use.
10. Pay attention to a hygienic application
If you share the cuffs with other people or want to avoid frequent cleaning, we recommend that you wear thin leggings or jogging pants inside the cuffs. This way, you will also avoid marks from the cuffs on your skin in case of higher pressure.
If you have any questions further questions or feedback, please do not hesitate to contact us!
Write to us: hallo@reboots.de
Call us: +49 6661 748 9106
Write us on Whats App
Instagram: www.instagram.com/rebootsrecovery
We are available for you from Monday to Friday from 8am -12pm and from 12:30pm - 4:30pm :)