For Reboots Boots, it's important to measure your inside leg length to find the size that fits you.
Good to know: If our boots do not fit you in terms of circumference, we have a solution for you. In our store you can buy 10cm extensions in pairs for our pants as well as for our boots. These can be combined with each other as often as you like, in order to optimally extend the circumference for you.
Here you can find the measurements of each cuff:
Boots
Once you have measured your inside leg length, you can decide on one of the following sizes:
Size M - up to an inside leg length of 81cm
Size L - with an inside leg length from 81cm to 88cm
Size XL - with an inner leg length from 89cm
Here you can find more information about the size: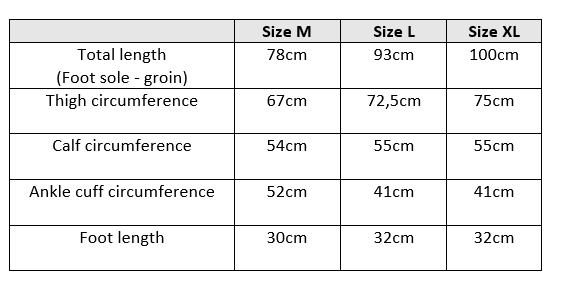 Tip: If you share your cuffs, for example, with another person and are therefore not so flexible with the size, you can simply deactivate the top chamber of the boots. This way, even slightly too large cuffs will fit you perfectly without compromising the effect.
Pants
The pants do not have a subdivision into different sizes.
The cuff has an inner leg length of 92cm and a total length of 126cm. It is suitable up to a maximum thigh circumference of 68cm and up to a maximum waist circumference of 112cm.
Arm Cuffs
The Arm Cuffs are also available in one size only.
The maximum arm circumference at the level of the armpits is 46cm for this cuff. At the level of the elbow joint the circumference is 42cm and at the level of the wrist 36cm.
The length of the Arm Cuffs from the lowest edge to under the armpit is about 63cm and in total length from the lowest to the highest edge (to the shoulder) is about 88cm.
Want more info? Here you will find another blog article about your right size.
If you have further questions about the application or feedback about our products, we would be happy to hear from you!
Send us a message: hallo@reboots.de
Call us: +49 6661 748 9106
Write us on Whats App
Instagram: www.instagram.com/rebootsrecovery
We are available for you from Monday to Friday from 8am - 12pm and from 12:30pm - 4:30pm :)